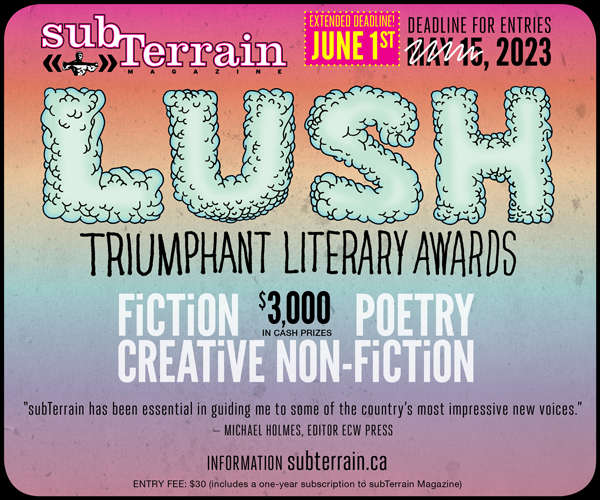 The 2023 Lush Triumphant Literary Awards are now Open! (Extended Deadline: June 1, 2023) The winner's of this year's awards will be announced in September.
The Competition awards cash prizes & publication:
3 categories
3 cash prizes
one deadline
$3,000 in cash prizes, plus publication
The short and the long of it . . .
FICTION — MAXIMUM 3,000 WORDS (no specific theme, we simply want to be amazed!)
POETRY — A SUITE OF 5 RELATED POEMS (MAXIMUM 15 PAGES)
CREATIVE NON-FICTION — (Based on fact, adorned w/fiction) MAXIMUM 4,000 WORDS
ENTRY FEE (non-refundable): $30.00 PER ENTRY ($5. for each additional entry in any given category). You may send a cheque or money order along with your submission (made payable to subTerrain Magazine) or submit your entry and payment online using the Submittable link below.
EXTENDED DEADLINE FOR ENTRIES -- JUNE 1, 2023 (POSTMARKED -- Or submit online at the link below)
The winning entries in each category will receive a $1,000 cash prize and will be published in our Winter 2023 issue. The first runner-up in each category will be published in our Spring issue of the following year.
All entries MUST be previously unpublished material and not currently under consideration in any other contest or competition. Entries will NOT be returned (so keep a copy for yourself). Results of the competition will be announced in the fall, prior to publication in our Winter issue.
You may submit as many entries in as many categories as you like!
ALL ENTRANTS RECEIVE A ONE-YEAR SUBSCRIPTION TO SUBTERRAIN!
 SUBMIT ONLINE HERE: Submit to Subterrain Magazine

Or ...
SEND ENTRIES & PAYMENT TO:
Lush Triumphant Literary Awards
c/o subTerrain Magazine
PO Box 3008, Main Post Office
Vancouver, BC V6B 3X5
#Triumphant2022
Make Cheque/Money Order Payable to subTerrain Magazine (NOT "LUSH TRIUMPHANT").

Disclaimer: The judges reserve the right not to grant an award if, in their opinion, no entry is of sufficient literary merit.
Back to top