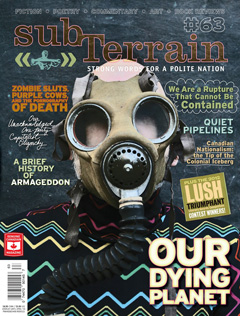 By
subTerrain #63 (Our Dying Planet) features our 2012 Lush Triumphant contest winners as well as an essay from Karl H. Siegler; commentary by Peter Babiak, Christine Leclerc, and Roger Green; new fiction from Peter Darbyshire, M.E. Powell, and Carleigh Baker; poetry from Christine Lowther, Lee-Anne Broadhead and Sean Howard, Michelle Regalado Deatrick, Rob Thomas, Susan Musgrave, and Ashley-Elizabeth Best, as well as creative nonfiction from Natalia Buchok and Jesse Donaldson; plus discerning book reviews of new work by Scott Fotheringham, David Harvey, Ivan E. Coyote, Christopher Meades, Alison Preston, Anne Fleming, Megan Abbott, Claudia Cornwall, and Kristen den Hartog.
AND… Mondo Hunkamooga: Musings on the Literary Life, our regular column from Stuart Ross.
Cover and interior illustrations by Derek von Essen.