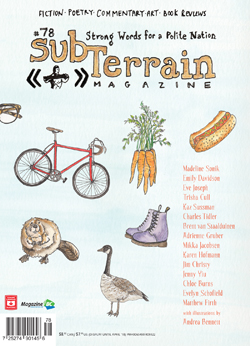 By
subTerrain #78 — The Winter Issue — is out!
#78 features creative non-fiction by Madeline Sonik, poetry by Emily Davidson, Kaz Sussman, Eve Joseph, and Chloe Burns; fiction from Evelyn Schofield, Karen Hofmann, and Jenny Yiu; micro-dramas by Charles Tidler; non-fiction by Trisha Cull; the 2017 Lush Triumphant Award Winners: Brent van Staalduinen (Fiction), Adrienne Gruber (Poetry), and Mikka Jacobsen (Creative Non-Fiction), plus regular columns by Jim Christy and Matthew Firth.


And reviews of new books by Martha Baillie, Guillaume Morissette, Chris Kraus, Robert Clark, Chris Urquhart, Yvonne Blomer, Lydia Kwa, Lisa de Nikolits, Sofi Okasanen, and Meghan Bell and the Growing Room Collective.


Cover and interior illustrations by Andrea Bennett.