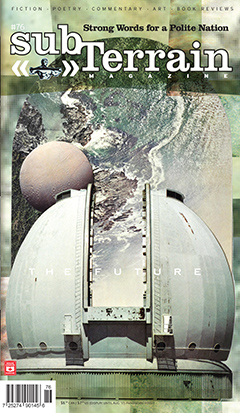 By
subTerrain #76 — The Future Issue — is out!
#76 features new fiction from Grant Buday, Zsuzsi Gartner, Matthew Jay Belyea, Hal Niedzviecki and Alban Goulden; poetry from Chris Hutchinson, Michael Klenda, Christine Rowlands, Lyle Neff and Mallory Imler Powell; creative nonfiction from Oliver Hockenhull and Alison Dowsett; memoir from Renee Rodin; commentary from Peter Babiak and Matthew Firth; a conversation between Carleigh Baker and Jordan Abel, and Heidi Greco interviews Robert J. Sawyer. We also feature reviews of new books by Mat Laporte, Kum Fu, Joan Haggerty, Kate Sutherland, John Armstrong, Alexandra Oliver, Alice Zorn, Ashley Little, Hassan Blasim (Ed.) and Alexandra Brodsky and Rachel Kauder Nalebuff (Eds.).
Cover and interior illustrations by Aimée Henny Brown.