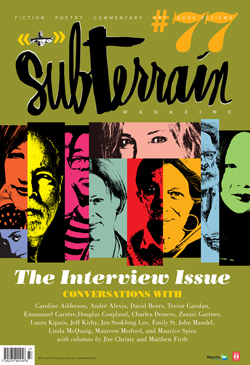 By
subTerrain #77 — The Interview Issue — is out!
#77 features conversations with Caroline Adderson, André Alexis, David Beers, Trevor Carolan, Emmanuel Carrère, Douglas Coupland, Charles Demers, Zsuzsi Gartner, Laura Kipnis, Jeff Kirby, Jen Sookfong Lee, Emily St. John Mandel, Linda McQuaig, Maureen Medved, and Maurice Spira with columns by Jim Christy and Matthew Firth.


Plus reviews of new books by Kaveh Akbar, Lori McNulty, Jen George, Leanne Betasamosake Simpson, Len Gasparini, Erika Rummel, J.C. Villamere, Daniel Zomparelli, Monica Meneghetti and Arnaud Delalande (translated by David Homel, with illustrations by Eric Liberge).