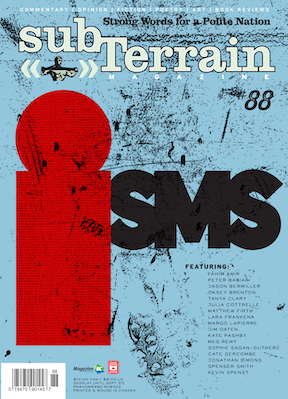 Cover for issue #88
By

We have a cool new issue to help you pass these hot summer days and nights!
Introducing subTerrain #88: Isms
This issue features fiction by Margo LaPierre, Jim Oaten, and Cate Sercombe; commentary by Peter Babiak and Jonathan Simons; poetry by Kate Pashby, Lara Frankena, Sophie Sagan-Gutherz, and Spenser Smith, creative non-fiction from Julia Cottrelle, Casey Brenton, and Jason Bermiller, and excerpts from new books by Fahim Amir and Meg Remy. Plus our regular columns, the Crank & File from Matthew Firth and Chuffed About Chapbooks with Kevin Spenst.
Plus, our regular book review section featuring coverage of new books written by Andrea Actis, Steven Heighton, Sarah Moss, Norm Boucher, Bahar Orang, Peter Counter, Simon Springer, and Peter Cole, and edited by Mona Fertig and Ejeris Dixon and Leah Lakshmi Piepzna-Samarasinha.
Cover and design by Derek von Essen.
Pick up a copy wherever good lit-mags are sold. Or order a sample copy from our website!