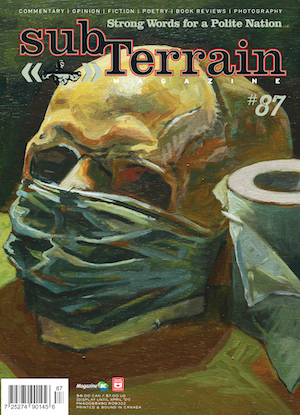 By

#87: The Pandemic Issue:
This issue features fiction by Sarah Gilbert, George McWhirter, Bonnie Bowman, Margo LaPierre, and Emily Rossi; commentary by Peter Babiak; poetry by Natalie Lim, Tanya Clary, Bradley Peters, Lillian Necakov, Geoff Inverarity, Barbara Nickel, Kate Pashby, and Ada Donati, translated by Genni Gunn; and non-fiction from Christopher Cheung, Rachel Burns, Cristalle Smith, and Tanya Bellehumeur-Allatt. Plus our regular columns, the Crank & File from Matthew Firth and Chuffed About Chapbooks with Kevin Spenst.
And our regular book review section featuring coverage of new books by Jillian Christmas, Christiane Vadnais, Alicia Tobin, Anne Simpson, Trevor Carolan, Zsuzsi Gartner, Alex Pugsley, Kevin Lambert (translated by Donald Winkler), Marie-Hélène Larochell (translation by Michelle Winters), and Sadia Messaili (translated by Aleshia Jensen).
Cover painting by Maurice Spira.
Pick up a copy wherever good lit-mags are sold. Or order a sample copy from our website!