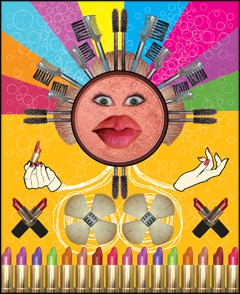 By
Jenn Farrell
Image by
Derek von Essen
I am the product of a rural upbringing. I remember party-line telephone rings, dairy truck deliveries, and burning our trash in an oil drum in the back yard. News from the world beyond the hay fields came in three forms: the Hamilton Spectator newspaper, from which I taught myself to read; the Sears catalogue, from which most of my wardrobe was ordered; and the Avon brochure, from which I learned all about the wonderful things a woman could put on her face.
My Great-Aunt Agnes was our family's very own Avon representative. With her rouged visage, coiffed silver hair, and smart pastel pantsuits, she set the bar for old-lady glamour. (This is stark contrast to her sister, my grandma, who believed in the value of good works over good looks. She would often tell me, "Pretty is as pretty does." I refused to believe it, even then.) Whenever my mother visited Aunt Agnes, she'd bring home an Avon brochure, which I'd paw until the ink started to lift.
Perhaps it was solely out of familial obligation, but my mother regularly ordered Avon items for me, especially during the holidays. My Christmas and Easter gifts always included one of the company's seasonal fragrance pins—a plastic bunny or jolly Santa that popped open to reveal a nickel-sized disc of solid perfume, most often a revolting floral-and-woods concoction called Sweet Honesty, a scent I never liked, even as a child. The thrill of applying perfume to my tiny wrists, however, meant it could have been pigshit and I would have worn it anyway. My dresser-top was also graced by a variety of Avon dusting powders and "collectible" perfume decanters in the shapes of various fairy tale maidens.
But these childish trinkets were nothing compared to the treasures on offer in the rest of the brochure. Every page called out to me: sparkling fuchsia lip glosses, crimson nail lacquers, shimmering eye shadows in frosty blues and greens, and something called "blusher"; a magical powder that could put roses in one's cheeks with the swish of a brush. I never got to see these items beyond their pages (except while possibly being worn by my beloved Aunt), because my mother never ordered them, even for herself. When Mom went out, she'd simply rub a bit of her usual lipstick onto her cheeks and finish with a couple of swipes of powder from a well-scuffed CoverGirl compact.
So I'm not really sure where my love—some might say obsession—with cosmetics came from. Like the Maybelline campaign suggests, "maybe she's born with it." I remember staring longingly at the makeup displays in the drugstore as a kid, and begging my mother to buy some for me. Up until then, I'd been allowed to have "play" makeup: the plastic lipsticks and miniature compacts that came—sadly—empty, as well as that 1970s default little-girl birthday gift, Tinkerbelle makeup, a line of products that looked and smelled real enough, but lacked the necessary pigments to actually do anything.
When my mother (who correctly believed Tinkerbelle was a foolish waste of money) finally relented, we went to the Shoppers Drug Mart on a summer day in 1981, when I was ten years old. We picked out a pale frosty pink lipstick and matching nail polish from Wet 'n Wild, the cheapest line in the shop. I begged for the red, but pale pink was all my mother would allow. She also bought me a small clear vinyl cosmetic bag in which to store them. A few weeks later, she gave me a baby blue CoverGirl eye shadow she had seldom used, telling me she'd take it away if I applied too much. Before school started that fall, I'd talked her into buying me a cheap purse at the Biway store, and so I began Grade Five carrying a handbag with my makeup in it and my pencil case and a little mirror and a hairbrush and a book or two. I have carried a purse and a makeup bag every day since. If you look at photographs of me from the time, you can often see that frosty lipstick and blue eye shadow, and the strap of that bag across my shoulder.
Every day, before I go out into the world, I have to "put my face on." The face I see in the mirror in the morning is not a face that I share with just anyone. While there's nothing wrong with it, I prefer to think of my bare skin as a well-cared-for canvas for makeup.
In an emergency, (the hotel's buffet breakfast is shutting down in fifteen minutes, I'm late for a doctor's appointment), I can put on a "basic face" in about ten minutes. But generally, that is not how I roll. I like to have a minimum of twenty minutes. I have yet to discover a maximum.


Here is what I apply or use each day, with optional additions in italics.
• Cleanser
• Antioxidant serum (smoothing; increases sunscreen performance)
• SPF 40 primer (evens and smoothes skin texture; adds sun protection)
• Tinted moisturizer with SPF 15 (evens skin tone; adds luminosity and additional sun protection)
• Concealer (disguises under-eye circles and broken capillaries around nose)
• Eyelid primer (brightens and smoothes skin; improves tenacity of other eye makeup)
• Foundation (creates uniform skin tone; adds dewy or matte skin finish as required)
• Blush (adds colour and contouring to cheeks)
• Highlighter (visually lifts brow bones and cheekbones)
• Eyebrow pencil, in two different tones (fills in patchiness and shapes eyebrows)
• Brow gel (grooms brow hairs)
• Brow sealant (creates smudge-proof and water-resistant brows)
• Eyeliner (defines upper and lower lash lines)
• Eye shadow (contours and colours the lid, lid crease, and brow bone)
• Cream shadow (adds highly pigmented lid colour)
• False eyelashes (adds thickness and length to lashes)
• Lip gloss (provides shine and dimensional shimmer to lips)
• Lip liner (defines lip line; prevents lipcolour from "bleeding" into fine lines around lips)
• Lipstick (adds long-wearing, rich pigments to lips)
• Translucent powder (eliminates shine on nose, chin, and forehead; creates a silky, matte finish)
• Bronzer (adds tan-like colour and/or shimmer to skin)
• Mineral water spray (to set all of above and eliminate an "over-powdered" look)


It looks more subtle than it sounds, honest. I am a master blender.
I love watching my face change as I apply my daily arsenal. To see my skin take on a glow, my eyebrows become shapely and defined, the green of my eyes accentuated. The packages themselves give me as much pleasure as the colours and textures within. Oh, NARS blush, with your rubberized black case! Oh, Benefit cream shadow/liner, with your pretty cap covered in doves! To open the bottom drawer of my three-drawer makeup cabinet and choose from myriad lipsticks, pencils, and glosses—it is a bliss left over from childhood, as simple and delightful as a new box of Crayolas. And when I am finished, I smile at my reflection as if to say, Oh, there I am!

I won't go so far as to say it pains me when I meet women who don't wear any makeup at all, but it does baffle me. Really? Nothing at all? Bare skin, bare nails, bare lips…it doesn't read as unattractive, just opportunities missed. I can see your pretty eyes, but imagine how much prettier they'd look if you applied just a smudge of liner in a deep cocoa brown, to bring out the blue! Or those gorgeous lips of yours, just begging for a little definition and shimmer. What's that: you hate your dark circles? I have just the thing, here in my bag …
I usually try to keep my mouth shut. One never knows if a gal eschews makeup because she doesn't know how to apply it, doesn't like it, or is living in the boring world of smug superiority. They're the ones who might look at my list and see insecurity, or vanity run riot, or oppression, or some other character flaw scrawled out in liquid liner. They're often people who fuss over other aspects of their appearance, or love hats, or collect flavoured vinegars to cook with. They put care and thought into the way they present themselves to the world, and yet see my big-ass makeup case as a testament to wasted time and money.
It's not like I haven't experienced life without makeup. There have been periods when I wore little or no makeup at all. It's just that those were the times that I felt least like myself: as a new mom, exhausted and struggling with postpartum depression, or trying to be what I thought was a "good" feminist, or just afraid of the world. In my weakest moments, I haven't hidden behind cosmetics—because when makeup symbolizes confidence and joy and a colourful spirit, taking the time and care to put it on is the last thing I'd feel like doing. I once overheard a telephone conversation between two of my friends, one assuring the other that the worst of a recent slump was behind me: "I know she's getting better, because she's painting her nails again, and yesterday she bought a lipstick."
The only thing better than applying makeup is shopping for it. Since that first purchase at the Shoppers Drug Mart decades ago, nowhere with a cosmetics display escapes my notice. I've bought makeup in every conceivable location, from the Armani counter at Holt Renfrew to a vending machine in a truck-stop restroom. While I do love a bargain, my lust for prestige brands was set in motion early.
I wish I could remember why, on that Saturday afternoon back in 1986, my mother and I visited the Shiseido counter in Eaton's. It wasn't a brand either of us was familiar with. It's most likely that an evocative poster from the brand's then creative designer Serge Lutens stopped me short, causing me to drag my mother over by the dimpled arm. I remember that the sales assistant (SA) was remarkably helpful and friendly, and that this must have appealed to Mom, since she often railed about the decline of good customer service. Although the makeup was the most glamorous I had ever seen, it was the skincare that my mother was willing to pony up for that day, especially since I was at that age where I was doing more harm than good by scrubbing my skin with Noxzema and hot washcloths and 10-0-6 Lotion.
The SA set me up with a daily cleanser, softening lotion, and a moisturizer, along with a facial massage kit (a thick cream and a small rubberized paddle) to be used once a week. I can't remember what this set-up cost, but even then I knew that the solid-glass bottles, delicate tissue wrapping, and embossed cardboard packaging meant I had definitely graduated from my plastic tub of cold cream. By today's prices, a similar regimen from the brand would cost about $120. Why on earth did she spend that kind of money on a fifteen-year-old's face?
Perhaps it was her way of showing interest in my new hobby of obsessing over my skin. Maybe she wanted to buy my love; this was a time when I frequently told her how much I hated her. Possibly she saw the potential for me to benefit from my looks, an opportunity she herself never had. (Despite possessing a textbook hourglass figure in her youth, my mother's eyes were badly crossed due to a fever in her early childhood. She didn't have them surgically corrected into well into her thirties. One can only imagine the taunting she endured in the schoolyard, all those decades before anti-bullying initiatives and random acts of kindness.)
Whatever the reason, it all added up to me being the only tenth grader I knew whose skin-care regime cost more than her Walkman. I took my three-step program seriously—carting those glass bottles in their boxes to sleepovers, camping trips, and gym class. No matter how drunk or tired or fucked-up I got, I never went to bed without first staggering into the bathroom to tend to my face, even if I sometimes had to cover one eye to be able to focus on my reflection in the mirror.
The Shiseido sales assistant put us on her "preferred customer" list, and telephoned whenever there was an upcoming special offer. This marked my introduction to the thrilling world of "Gift with Purchase" (GWP) shopping, wherein cosmetics companies give you something for free (most often a selection of popular products in trial and travel sizes, usually in a small clutch or cosmetics bag), while also encouraging you to buy more product (by setting a minimum spend for the bonus offer). In this fashion, I was able to try some of the brand's makeup offerings, and had soon compiled a list of must-haves. Sure enough, when Christmas came, gone were the Avon perfumes, replaced by a Shiseido eye shadow palette and a lipstick and some other goodies that I can't quite recall. What I can remember is the rich pigments, the silken textures, and the deep, satisfying click the cases made upon closure.


Like other forms of retail, shopping for makeup is different than it was twenty years ago. While the department-store cosmetics counters still exist, they now struggle to retain market share in a landscape dotted with high-end "beauty boutiques," mall stores such as Trade Secrets, and the mega-chains such as Ulta and Sephora.
Until cosmetics superstore Sephora recently opened in Vancouver, the Toronto Eaton Centre location was my Mecca. I made my at-least-annual pilgrimage to the store, often stopping by several times over the course of one weekend. (Of course, I've made purchases from Sephora online, but makeup shopping on the internet has all the excitement and spontaneity of an arranged marriage.)
Sephora (or any well-stocked makeup boutique or department-store counter for that matter) is a brain-scrambling candy store of brands and products. To the uninitiated, it must seem overwhelming. For me, it's a giddy rush. I know where I'm going and what I'm looking for, but I'm always open to being led astray. Soon my hands and arms are covered in swatches of colour, and my bag is full of perfume-spritzed papiers. No tester of any product is safe, nor are the staff, with whom I engage in lengthy discussions of formulation, top notes, creative vision, and packaging. I want to take it all home with me, and no matter what I get, there's always something I swear I'll come back for. Every product offers the possibility of reinvention, a new look. A superior sensation, a better texture, more long-wearing, brighter, better, faster, more…in a word, prettier. Is that such a terrible thing to spend money on?
As I grow older, some of the joy has been sucked out of my morning makeup routine. There's a lot of "spackling" to be done now, filling in creases and prepping the canvas before I can even get to the fun stuff. It's disheartening to buy a new concealer, only to find it all gunked up in the tiny network of lines around my eyes. A bright red lipstick can no longer be swiped on directly from the tube, since an hour later it looks like something worn by Heath Ledger's Joker. Many of the zanier looks that I tried in my youth are no longer right for me—not because I don't have the guts, but because I don't have the skin. The fashion-forward makeup styles featured in magazines that I then try to replicate at home, now, more often than not, just make me look like I lost a fight—or a bet.
Luckily, my teenaged daughter is there to assume the glamour crown of the household. She accepts any and all of my not-quite-right castoffs, the same way I gratefully took that blue eyeshadow from my own mother twenty-odd years ago, and is the only person I have ever met who takes longer to get ready than I do. I have never seen anyone comb out their mascara clumps with more skill. I'd like to take the credit, but I don't think I taught her anything she didn't come out of the womb already knowing.

When my mother died a few years ago, I sifted through her closets and drawers, deciding what to keep and what to discard. Most of it was of no interest to me, beyond the train-wreck aspect: Who could have needed seven dark green turtleneck sweaters? Why would anyone keep bags and bags of empty prescription bottles? Other than her engagement and wedding rings, and a few odds and ends, most of it was destined for the donation bin or the garbage.
But when I cleaned out the bathroom cabinets, I found several lipsticks. Anyone who's ever read a women's magazine knows the "What Does Your Lipstick Shape Say About You?" quiz. I've never been able to figure mine out, since my wear pattern is a hybrid of several shapes. But my mother's lipsticks were the classic "sharp angle" tip—long and dagger-pointed. According to the quiz, this pattern indicates that the wearer is, among other things, opinionated, selective of friends, outgoing, and argumentative.
One of the lipsticks was L'Oreal's Shine Delice in Sheer Mango—a line long since discontinued by the company (despite being lovely summer-sheer lipsticks with a pleasant strawberry scent). The soft, shimmery coral colour was an unusual choice for her, since she'd always favoured mauves and plum tones. Sheer Mango was nearly gone, so the usual dramatic slant tip was worn down; it was almost flat across, but with that characteristic pointed edge. I added it to my small collection of keepsakes and brought it back home with me.
I keep it at the very back of a drawer in the bathroom, separate from my other makeup, so that it won't get lost or "borrowed" by my daughter. There are rare occasions when I can't find just the right lip colour to wear, and then I remember it and fish it out of its hiding spot. The texture is getting grainy and the scent has started to fade, but the colour is still pretty. I twist it all the way up and apply it very gently, knowing that every time I do, I wear away some of the shape that Mom made applying it to her own lips. It is as close as I will ever get to her again. »


Footnotes
1. CoverGirl was founded in 1958 in Baltimore, Maryland, by the Noxzema Chemical Company Originally the line offered only six products, including their "medicated face make-up" a version of which, now called "Clean Makeup," still exists today. The brand is notable for its girl-next-door branding and use of wholesome, fresh-faced models, including Christie Brinkley, whose twenty-year contract with the cosmetics company was the longest in modelling-industry history.


2. Maybelline cosmetics got its start when chemist T.L. Williams developed a cake mascara after watching his younger sister apply a mixture of coal dust and petroleum jelly to darken her own lashes. He called the product Maybelline, a combination of his sister's name Maybel, and Vaseline. In 1971, the company introduced the iconic pink-and-green packaged Great Lash, the world's best-selling mascara. The affordable brand is the leader in global sales and was acquired by L'Oreal in 1996. The brand's slogan since 1991 has been, "Maybe She's Born With It. Maybe It's Maybelline."


3. Wet 'n Wild has targeted a young, value-conscious consumer since its inception in 1979. The brand is a stalwart of drug- and chain-store makeup counters, offering a wide variety of inexpensive products for face and nails. Known for their unusual colours and sparkly finishes in the past, the line has been steadily moving towards a more performance-based and higher-quality image in recent years.


4. NARS is the makeup and skincare line of French makeup artist François Nars. The line began in 1994 as a limited-edition release of twelve lipsticks in partnership with department store Barney's New York. NARS packaging was developed by designer Fabien Baron, and is known for its pleasing tactility and chic minimalism. The line has a dedicated following, despite its relatively high price point, and its powder blush in "Orgasm" frequently appears as a favourite in beauty magazines' reader surveys.


5. Benefit was founded by American twin sisters Jean and Jane Ford, who first opened a beauty boutique in San Francisco in 1976. The brand, which has grown to include skin-care, body care, and fragrance products in addition to makeup, is well-known for its whimsical product names and colourful retro packaging. Benetint, a rose-toned lip and cheek stain that is arguably the brand's most famous product, was originally created by the Fords in 1977 as a liquid nipple rouge for an exotic dancer.


6. From its origins as Japan's Shiseido Pharmacy in 1872 by Arinobu Fukuhara, Shiseido is the world's oldest cosmetics company. The corporation prides itself on its long-standing history—one of its first products, Eudermine softening lotion, is still in production today—along with technological advances in skincare, presented with the highest attention to elegance in packaging. The brand exploded in global popularity and won numerous advertising awards when, in 1980, they recruited a young Serge Lutens to develop the company's overall image. Most recently, Shiseido has partnered with renowned makeup artist Dick Page to create a line called The Makeup. The line's Perfect Rouge lipstick has proven popular with beauty editors and consumers since its release in spring of 2009.


7. Sephora is a chain of beauty product stores founded in France in 1969, but that did not appear on North America shores until 1997. The chain includes more than 750 stores in twenty-one countries, and carries over 250 brands of makeup, skin care, fragrance, bath, hair products, hair tools, and beauty accessories, including the store's own private label. The store concept promotes the testing and sampling of all its merchandise, a lenient return policy, and knowledgeable sales assistants (SAs) who are encouraged to promote products from multiple brands. This business model stands in stark contrast to department store counters, where SAs are trained to sell for a single brand. In 1999, Sephora launched its online shop, Sephora.com, which features reader-submitted reviews of all its products.


From Issue #53.
Back to top